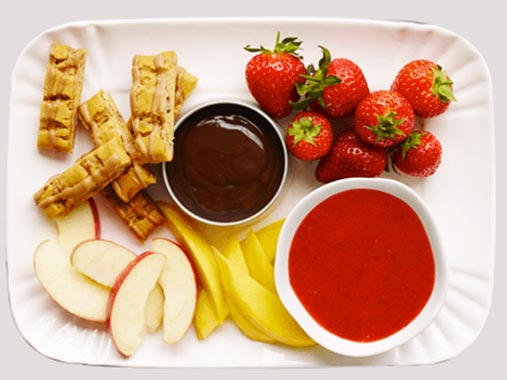 Chocolate Fruit Fondue Recipe
You'll love dipping into fresh, sweet strawberry and chocolate sauce with this tasty selection of nibbles.
1 Serving
10 minutes preparation
222 Calories per serving (approx)
Shop Now
View all recipes
1 Fibre One™ 90 Calorie Salted Caramel Square
5g (approx 3) pecan nuts
1/4 small banana, sliced
1 level tablespoon extra thick double cream
2teaspoons caramel sauce, warmed if set
Toast the pecans in a small non-stick pan, stirring frequently for 2-3 minutes over a medium heat. Remove from pan, cool a little and then chop.
Top the Salted Caramel Square with the sliced banana, followed by the cream. Drizzle with the caramel sauce, scatter with the pecans and serve.
Use any fruit you like for this delicious plate. Why not try grapes, fingers of pineapple or melon.
A tasty alternative dip would be either a ready-made salted caramel sauce or reduced fat custard.