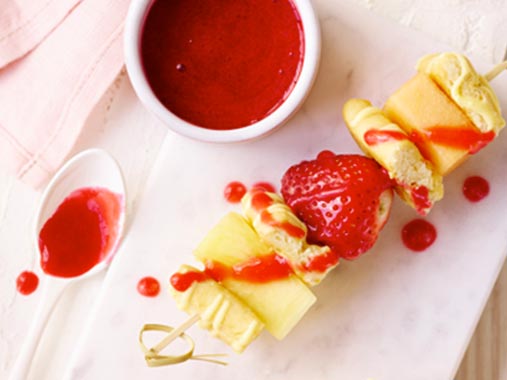 Fruit Kebabs with Raspberry Puree
Take time to enjoy a delicious flavour and texture combination piece by piece.

1 Serving
8 minutes preparation
133 Calories per serving (approx)
Shop Now
View all recipes
1 Fibre One™ 90 Calorie Lemon Drizzle Square
50g raspberries
3 large pieces fruit, such as melon, pineapple and strawberry
1/4 teaspoon icing sugar, for dusting
Using the wooden spoon, press the raspberries through a sieve placed over a small bowl to collect the puree; discard the seeds.
Cut the Lemon Drizzle Square into 4 even pieces.
Thread the Lemon Drizzle Square onto the wooden skewer alternately with the fruit pieces. Dust with icing sugar, and serve with the raspberry puree.
For convenience, why not use ready-prepared fruit from a fruit salad mix.
These can be made in advance and kept in the fridge separate from the puree until ready to serve.