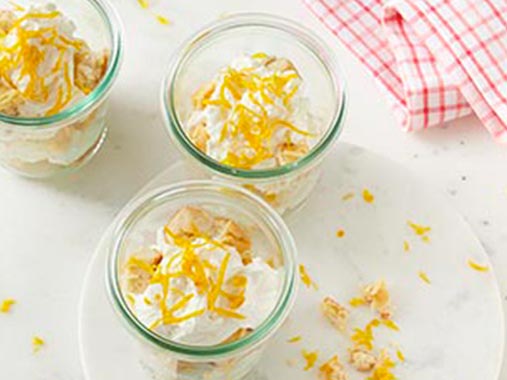 Lemon Bar Layer Cake Recipe
This tangy layered dessert is so easy to make it will soon become a favourite!
1 Serving
5 minutes preparation
141 Calories per serving (approx)
Shop Now
View all recipes
1 Fibre One™ 90 Calorie Lemon Drizzle Square
50ml water
1 teaspooncaster sugar
30g strawberries, stems removed
20g raspberries
10g blackberries
Fat-free Greek style natural yoghurt, to serve
Put water in a small saucepan with the sugar. Heat gently, stirring until sugar dissolves. Increase heat slightly, and bring up to the boil. Simmer for 2-4 minutes or until syrupy and reduced by approx. half.
Meanwhile, chop the strawberries into small pieces. Cut the raspberries in half if large, and chop the blackberries. As soon as the syrup is ready, add the strawberries, raspberries and blackberries to the pan. Stir with a wooden spoon, and set aside to cool for 10 minutes.
Meanwhile, stamp out a 6cm circle from the Lemon Drizzle Square (enjoy the off-cuts!). Spoon most of the fruit and juice onto a serving plate in a small mound, and top with the Lemon Drizzle circle. Spoon the remaining fruit on top, and serve with Greek yoghurt.