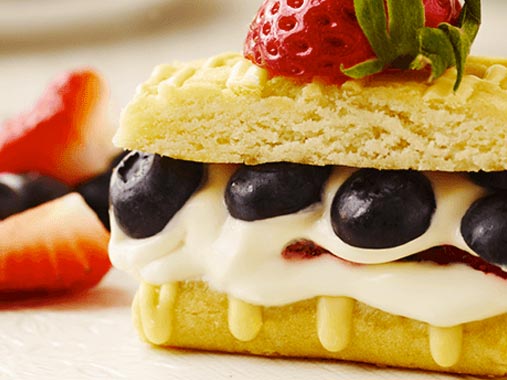 Summer Mille Feuille Recipe
With classic French flavours, this dessert looks and tastes superb – bon appétit!

1 Serving
5 minutes preparation
218 Calories per serving (approx)
Shop Now
View all recipes
1 Fibre One™ 90 Calorie Lemon Drizzle Square
1 small strawberry
5 teaspoons half fat crème fraiche
1 to 2 drops vanilla extract
5 to 6 blueberries
Cut the strawberry in half (leaving the leaf on). Reserve half for garnish. Remove the green from the other half, and thinly slice.
Cut the Lemon Drizzle Square in half. Place one half on a serving plate. Mix the crème fraiche with the vanilla. Spread with 1 teaspoon of the crème fraiche mixture. Top with the strawberry slices. Spoon 3 teaspoons of crème fraiche mixture over the strawberries. Top with the blueberries and then the other half of the Lemon Drizzle Square.
Spoon the remaining crème fraiche on top of the Mille Feuille, and add the strawberry half. Serve straight away.
Try serving this with a berry coulis (sauce). Look for ready-made coulis in supermarkets, or make your own by whizzing strawberries, blueberries and raspberries together in a food processor then passing through a sieve.
If preferred, replace the crème fraiche with thick low-fat Greek yoghurt.