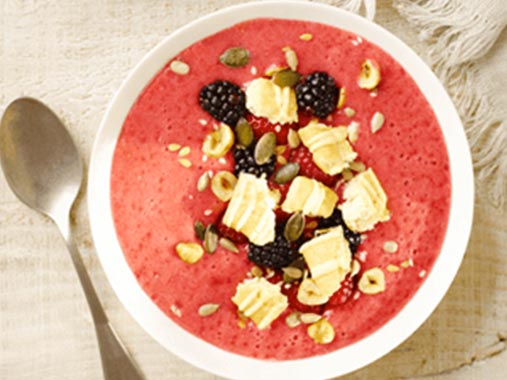 High Fibre Smoothie Bowl Recipe
A bowl of delicious goodness that's ideal for breakfast, dessert or a substantial snack.
1 Serving
10 minutes preperation
533 Calories per serving (approx)
Shop Now
View all recipes
1 Fibre One™ 90 Calorie Lemon Drizzle Square, broken into small pieces
1 medium banana
150g strawberries, stems removed
70g raspberries
60g blackberries
200ml apple juice
1 tablespoon mixed seeds (such as sunflower and pumpkin seeds)
10g whole hazelnuts, halved
Place the banana, 100g of the strawberries, 50g of the raspberries and 25g of the blackberries in a blender with the apple juice. Whizz until smooth. Pour into a serving bowl.
Slice the remaining strawberries. Arrange strawberry slices, the remaining raspberries and blackberries, and lemon square pieces in rows on top of the smoothie. Scatter with the mixed seeds and hazelnuts. Serve straight away.
Try this recipe with any of your favourite fruit and vegetable combinations. For example, you could try using a mix of tropical fruits or green fruit and vegetables – kiwi, spinach, lime, mint and green apple.
Substitute the hazelnuts with any nuts. Try pistachio, walnuts or almonds or a mixture.