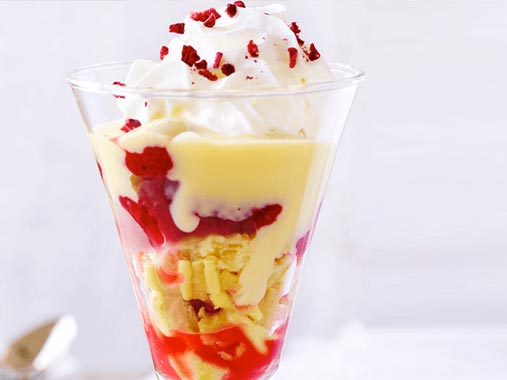 Raspberry and Lemon Trifle Recipe
This trifle has all of the rich indulgent flavour of a classic English trifle.

1 Serving
5 minutes preparation
221 Calories per serving (approx)
Shop Now
View all recipes
1 Fibre One™ 90 Calorie Lemon Drizzle Square
2 tablespoons plus 2 teaspoons water
1/2 teaspoon caster sugar
1/2 teaspoon cornflour
50g raspberries
3 tablespoons reduced fat fresh custard
1 large squirt of reduced fat aerosol squirty cream (approx 16g weight)
Freeze-dried raspberries to decorate (optional)
Break up the Lemon Drizzle Square into small pieces, and place in the base of a medium serving glass.
Place 2 tablespoons of water in a small saucepan with the sugar. Heat very gently, and stir for 30 seconds or so until the sugar dissolves.
Combine 2 teaspoons water and the cornflour in small bowl to make a smooth paste. Add the raspberries to the pan, and stir in the cornflour paste. Increase the heat slightly, and stir until thickened (approx. 30 seconds). Leave to cool for 1-2 minutes, then spoon over the Lemon Drizzle Square. Cool a further 5 minutes.
Spoon the custard over the raspberry layer, then top with the cream. Sprinkle with freeze-dried raspberries (if using) and serve straight away.
Freeze dried raspberries make a really attractive garnish for many desserts, and their intense raspberry flavour combines well with most sweet and some savoury flavours. They are available from some large supermarkets and online from specialist food suppliers.
If you prefer, garnish the trifle with fresh raspberries, or try toasted chopped nuts such as almonds, hazelnuts or pistachios.